Finding the one for you is one of the best feelings ever. From the moment you figure out "this is the one", you begin to make plans. You picture what you want the engagement and the marriage to look like- the scenery, extra features and effects. If you get this, then you understand how important an engagement is. If you can't be there to tell your loved ones how you feel when they get engaged, you can simply send engagement wishes.
Why send engagement wishes
Engagement is the beginning of something beautiful for couples who are entering into a new relationship. In other words, it's a great moment for these love birds and they deserve a bouquet, a round of applause and a warm wish that can make their engagement so much exciting and fun. Don't you think so? Certainly, you do. Post some Engagement Wishes images/pictures that send your greetings to them. If you do this, it just means that you are really happy that these two people are engaged.

How to write engagement wishes
Most times, like with most other things, we just don't know where or how to begin. We don't know what to say or how to say what we want to say and that can be frustrating. Whoever it is; a friend, a sibling, you mum or dad, or even a child, there are amazing ways to tell them how happy you are. So if there's someone you'd like to send engagement wishes to, here are a few examples to consider.
Engagement Wishes for friends
Finding love is one thing, but when love meets forever, it's a priceless experience. I wish that this love evolves and travels on the wheels of eternity. Happy engagement, my friend.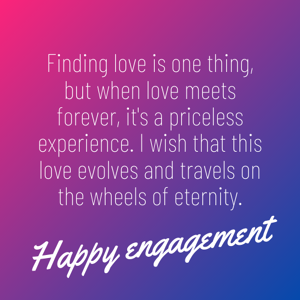 It's been a long time coming and I'm truly happy for you. I pray you find all the happiness you deserve in this journey of love. Happy engagement, my friend.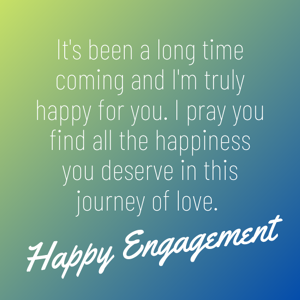 Engagement Wishes for Siblings
It was just like yesterday when you were making sand castles. Today, you said yes to a man. Time truly flies. I just hope he knows how lucky he is to be having you as his wife. It's simply a jackpot. Best wishes on getting engaged.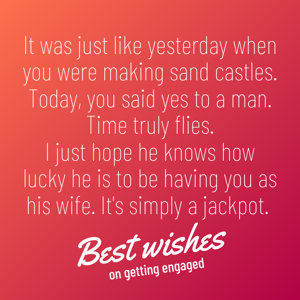 May this seed of love you've planted today blossom into a beautiful tree; for shelter when you're cold, security when you're scared and a place of rest, happiness and love. Congrats on your engagement!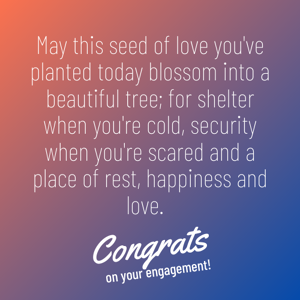 Engagement Wishes for Children
I can still remember the first time I saw you; as tiny as they come. I remember the first steps you took, your first word, your test and even your first kiss. You've grown to become an amazing woman and I'm sure you'll be a great wife. May the sparkles in your eyes this day remain forever. Cheers to your engagement.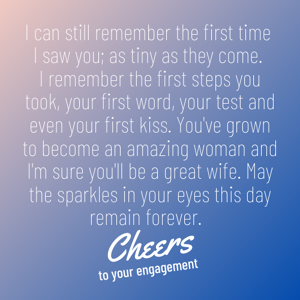 It's a brave step you've taken today. I pray you receive love as much as you give it in your marriage. Have a blessed engagement darling.
I have simply put together these few messages to explain how you can connect with the person instead of sending random messages that have no heartfelt connections to the recipient. Note that you can also send an engagement wish to your spouse after an engagement, just to say "thank you for bringing light back into my life". Keep it simple, straight to the point and poetic at the same time.