Get well soon is not a combination of three words; it is more a feeling of hope for anyone who is going through an illness. We say get well soon to people who are sick or who do have any injury. It is like a prayer for their speedy recovery. There are many different ways of saying it, and it all depends on your native language. However, it is an excellent way of showing care and affection to your dear ones. The ill persons are in desperate need of hope from any side, and when they receive Get well soon messages, they feel more energetic and hopeful.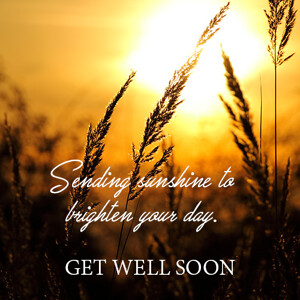 Just like "Comfort food" that people eat when they need some form of comfort or relief from stress, a message can also send comfort especially when you are not there to offer comfort to the person. "Get well soon" messages usually sent to someone who is indisposed and needs or is currently receiving medical attention. In times like these, there might be a need for you to be "unavoidably absent" which could be because of your schedule or even due to medical reasons as the sickness might be contagious.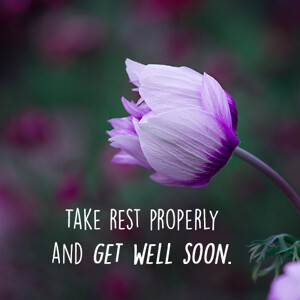 Other times, the person might just be feeling overwhelmed with physical presence and might just want to be alone. This is a good time to send a message to show how much you care.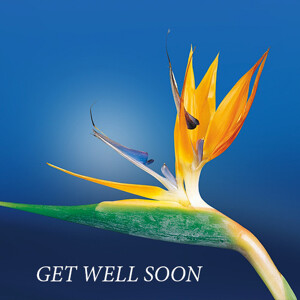 Messages you can send in such situations include;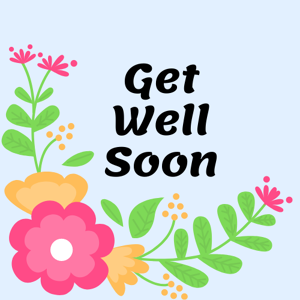 Examples of "Get Well Soon" Messages
I wish I could be there with you right now, but because I can't, I am sending you some good cheer! Get well soon, dear.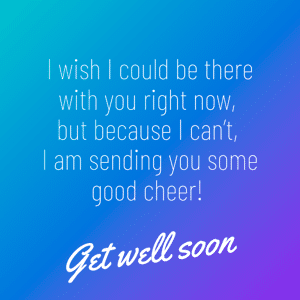 You cannot see many of us right now because if we were to show up, all of us (including you!) would be sent out of the hospital. Lol! But this does not mean that you are alone, dear. See you soon!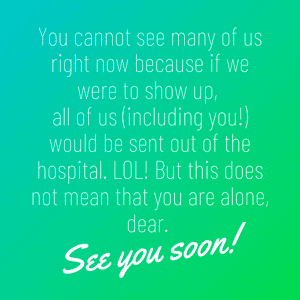 I miss having someone to trouble me as much as I trouble them. Hurry up and come back home! Get well soon.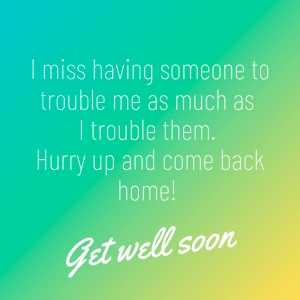 I can't wait to see you back on your feet! There's so much I want to tell you, so much that we have to do together. I love you.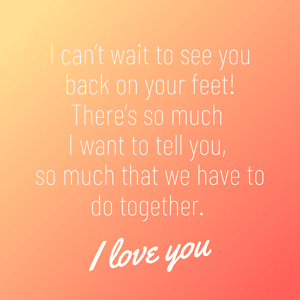 I'm glad I could make you laugh. The sound of your laughter is always like a tight hug; it makes me feel good! Now, hurry up and come home!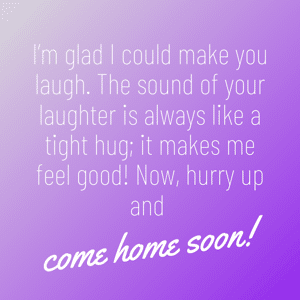 I could not eat out of your food in the hospital; I'm sure you would have been wondering why! Lol! I miss picking out of your food; get well soon, sis!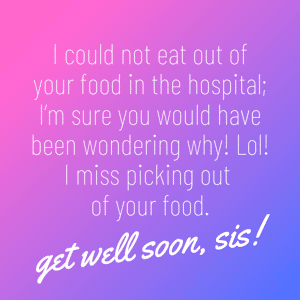 My love, you are so strong! Each day I visit you, you remind me of how much strength you possess. I love you and can't wait to have you back home in my arms! Get well soon, baby!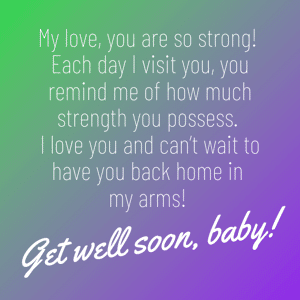 I almost brought some pink and green fabric to put on the windows… the white color of the room is almost blinding! Lol! Hurry up and get well so that you can choose fabrics in those hideous colors you fancy!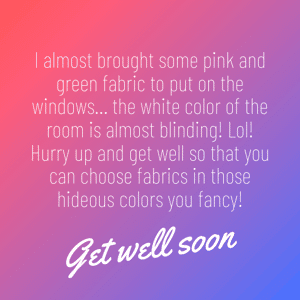 When sending a "Get well soon" message, always sound cheerful. You can replace "Get well soon" with other phrases like "Come home soon" or "I miss you" so as not to sound depressing! Or just get rid of the phrase and use a slang or word that you and the recipient can relate with. The idea is to send warmth, love, comfort and happiness; not the other way round!