I know you probably cast a sideways glance at this because you think that Good Day messages are no longer "in vogue". Well, that is not true. The difference is that not many people regard messages sent at any time of the day as something that should be thoughtful and heartfelt. Now that messaging apps like WhatsApp and Telegram have gained extreme popularity at the expense of SMS, not much thought is put into sending messages at all; how much more a message that shows that you care how the other person's day turned out. But a good day message can be the difference between a basic day and a great day.
If you wish someone a good day, that little act of concern can make that day a lot better for that person. It makes the person feel special, simply because you care about them. You can use texts to send good day wishes to that person in your heart, or better yet, use Good Day messages images/pictures. However, if you want to do so, try to remember that the Good Day messages or pictures you send to someone can make the day go a whole lot better than it was before.
You can send these messages to friends, family and even your partner. Examples of messages you can send as a good day wish include:
GoodDay Messages to Friends and Family:
You are a conqueror; just yesterday, you went through the day and certainly deserved to kick back and unwind. Today's here and you're out again. I hope you have a great day.
Yesterday may not have looked like all you wanted or expected, but there is always a chance to do better and it is called "Today". Have a good day, dear.
You've probably heard that not all heroes wear capes. I think of you everytime I hear it; how you go out everyday regardless of how you feel just to keep saving lives. You're my Hero!
When the night comes and you go to bed, sleep with a smile because you deserve it. I'm sure you'll have an amazing day.
A little disappointment today only means that you can come back stronger and better tomorrow. Don't forget that! Here's wishing you a more fruitful tomorrow. Too early? Well, the key is to always start early!
The day was made for you, not you made for the day; this is the mindset to have even as you begin the day! Have a great day.
Good Day Messages to Lovers
Look at the sky; can you see the see the sun? Hey, don't look for too long. Just like that, my world became brighter because of you. I hope you have a good day, my love.
With you, I know that tomorrow would be better. How? I spent my day with you in it!
You are someone I can rely on and that I get to spend another day with you is priceless. Have a good day.
Even with the disappointment today, I did not feel overwhelmed because I got to share my day with you and that's beautiful. I know that tomorrow will be even better for both of us.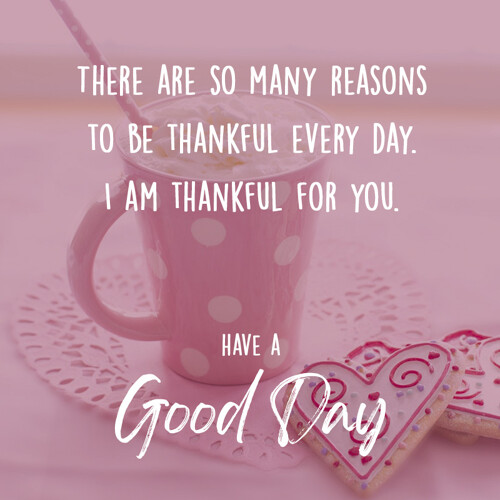 I cannot wait for you to smash that interview and get that dream job; you deserve nothing but the best, babe. Have a good day!
The key to sending messages like these is to make it heartfelt. No one wants a message that looks like it was sent out of compulsion. A heartfelt message, trust me, would make all the difference, no matter the time of day!