There is that one day that is important to everyone. If you randomly ask 15 people the most important days of their lives, you will receive answers like "My wedding day", "The day I gave birth to my first child", etc. However, you can be sure that you will get the answer "My birthday" from at least 7 out of those 15 people. Birthdays are so special that people go out of their way to throw big parties, give surprises and treats as well as other things that make the celebrants feel loved. Even the worst of people get to feel like kings and queens on their birthdays.
I usually love the excitement that it brings. I'm one of those people who would usually say "It is just a single day out of the week, a calendar day of the month; I do not understand what the fuss is about!" and feel this way months before my birthday; weeks even. But the morning of my birthday, I usually break into a wide smile and the excitement erupts like a volcano; a burst or a rush of wind. I might not be throwing a party or doing anything on that day, but I do feel a different kind of happy on my birthday.
There was one birthday I actually said to myself, "Let me see who is going to remember, who is going to forget and who will send me the most emotional message!" Now, you might not be like me, but we all look forward to receiving birthday wishes on our birthday. It can be quite disheartening to realize that no one wishes you a "Happy Birthday" in any way. Text messages and cards are one of the popular ways of sending Birthday Wishes. I like to even add a special touch sometimes; I send handwritten notes instead of a card just to make the celebrant know how much I care.
How to write Happy Birthday Wishes?
When sending birthday wishes, there are a few things to watch out for:
Be Genuine: As much as it might be an emotional day for the celebrant, most human beings know when a person is being genuine or not. The last thing you will want to do is to make the celebrant feel upset because you wrote something that is untrue. A tip to remain genuine when writing a birthday wish is to avoid using grandiose words. You see what I did there? I could have just typed "avoid using elaborate/grand words" and you would have gotten the idea. This is exactly how it feels when you write a birthday wish that is full of confusing grammar!
Be Creative: As much as the birthday wish must be genuine, your creativity should also stand out. This is why people have moved on from "Birthdays come once in a year…" kind of messages to creative messages that "have a heart".
Some ideas for writing Happy Birthday Wishes
You can be quite annoying, but you are also a sweet, beautiful friend with an amazing personality. I know that you will always have my back as much as I have yours, and I just want to use this day to remind you of how amazingly special you are to me! Happy birthday"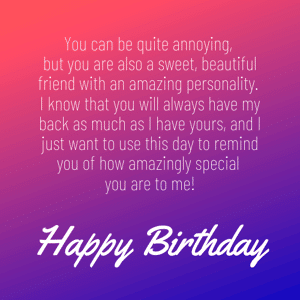 Happy birthday to the one person who always makes me smile. You are my special treasure. Happy birthday!
You should be celebrated today, and every other day. You are a star; shine bright this year and beyond! Happy birthday!