Weekend, as the name specifies, is the end of a week. Usually, people refer it to the end of one week and starting of another. The weekend is more like a feeling than days. In many countries, the weekend is usually on Saturday and Sunday. The reason for calling it a feeling is, people used to relax these days and get themselves free from the burden of the whole working week. In addition, many parties and wedding events are planned on a weekend to make it stress-free. The anxiety of the entire working week is ended as soon as the weekend starts, and it is time to relax and get our self to prepare for the coming week as well.
When you see the word "TGIF", what comes to mind? I'm sure you want to kick off your shoes, unzip your dress, loosen a tie and just basically unwind. I am yet to meet a person who does not get a little excited on Fridays, especially as Fridays signal the end of a week and the beginning of a weekend. It's almost like a default setting for most of us! Some of us associate the weekend with words like "fun", "party", "club", and "hangout" while others associate the weekend with "chores", "cleaning", "cooking", "rest", etc.
But whatever word we use, we all look forward to weekends. A "Happy Weekend" message can be used to send "feel-good vibes" amongst friends, family and lovers.
Examples of Happy Weekend wishes include:
Happy weekend wishes to Friends (and Family)
Congratulations! You have successfully navigated through the week, and you are about to be rewarded with a great weekend! Happy weekend!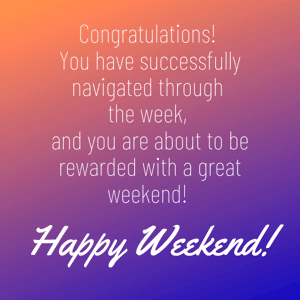 Guys, I really want to say "Happy Weekend"; I might still say it before the night winds down. But for now, let's raise glasses because we survived the week with our shoulders high!
May this be one of the best weekends you've had all year round. Happy weekend!
I think weekends are given to us so that we can "recharge" enough to come back with enough juice to create super amazing ideas for the upcoming week. Have a great weekend!
Knowing you, I can guess that you already have a lineup of activities planned out! But do not forget to take time out to rest and unwind! It's the weekend after all!
You have had what I would describe as "such a week", but trust me, it's about to get better! Have a great weekend, dear!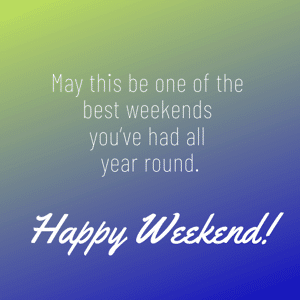 Happy weekend wishes to lovers
I cannot wait to be home with my favorite person and cannot think of any other way to have a better weekend than with you!
I know the kind of week you had is one that we would both like to forget. But babe, I'm sure you would have a great weekend!
May this weekend bring you smiles and happiness! Happy weekend, my love!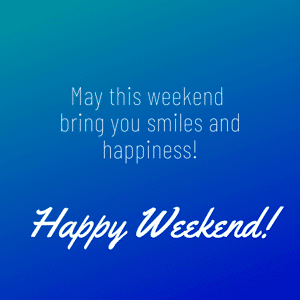 Where do you want to go tonight, babe? It's time to unwind as that's a great way to start the weekend!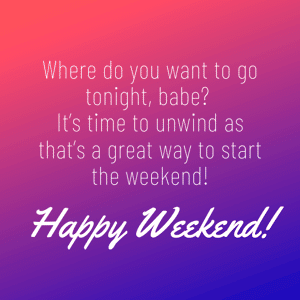 When I see TGIF, I think it means "Thank God I Found you!" Happy Weekend, love!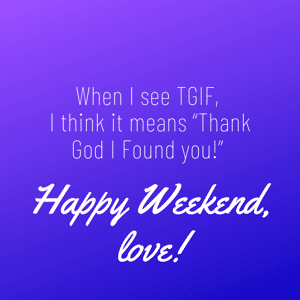 You can go in any direction with your "Happy Weekend" wishes/message. The basic idea is to make the recipient feel pumped and excited about the weekend!