When someone is dealing with loss, especially when bereaved, it feels like everything moves in a blur. They usually need all the comfort they can get, yet on their own terms. There is the time to visit them; be there to hold their hands, offer a handkerchief when the tears come, be ready to give hugs and receive hugs, be ever ready to listen if the person wants to talk and even stay silent when necessary because sometimes, silence in itself is comforting. When you cannot be there with the person suffering loss, you can call the person from time to time as a means of checking upon them.
You do know you should not leave a bereaved person alone for too long. If you cannot be there in person or call, you can send sympathy messages to the person.
Sympathy Messages act as check-up messages as well as a means of sending comfort to that friend or acquaintance that is suffering great loss. You must be careful with what you say when you are not there with the person physically.
How to write sympathy messages
You'll agree with me that it's an extremely tough task to console someone who has lost someone or something. We just don't have the right words. So you have to check everything you say, just to be sure you're not compounding the matter. A broken heart or an irreplaceable loss is such a delicate thing, and trying to make someone feel better is not as easy as we think. But it's beyond having the right words. For so many people, even facing the grieving friend or relative is a tough situation. So, we resort to messages.
Messages can also be used when and if we're far away. Composing a condolence message is a difficult task. What do you say? How do you say it? What words can best express your deepest feelings? Here are a few examples;
Sympathy Messages for friends, family and loved ones
Some examples of Sympathy Messages you can send to your friends, family and loved ones include:
I cannot say I understand what you are going through, as pain is felt and handled differently by different people. Am so sorry for your loss. I truly am.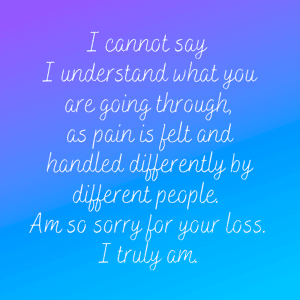 I can only imagine how much pain you are feeling; loss is something that no one is prepared for. I am here for you, any time and any day.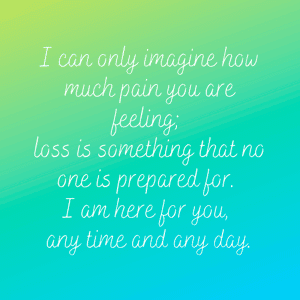 You have handled this period with so much grace and poise; it is hard not to admire your strength. You are so strong and that is beautiful. I know You got this!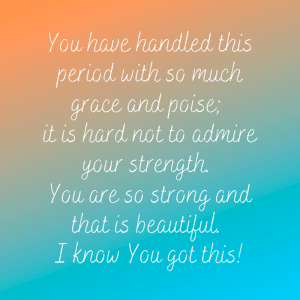 It does not look like you will get through this; everything looks bleak. But you will get through this; step by step; second by second. And eventually, the sun will shine again!
Accept my sympathy on the loss of your father. He was a good man, and will be sorely missed. I will miss his smile; he was also my father! Be strong, darling!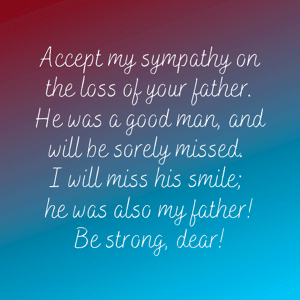 Sometimes, there are no right words to use and that applies here too. It hurts to see you in so much pain and if I could do anything to make you feel better, I would. I just wanted to check up on you. Hope you are fine?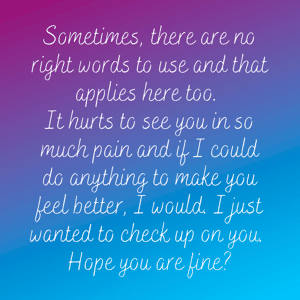 There's only so much we can control in life. We can control what we say, what we do and where we go. Sadly, death isn't one of the events we have control over. This sad event surely has created a vacuum that may never be filled, but you just have to keep on living. Please stay strong and accept my condolences.
The loss of a dear one inflicts on us pains that are too great to be imagined. I know it really hurts, but life is just what it is and no one is promised forever. We all will depart from this world one day or another. Please wipe your tears, trusting that your dear one has left this world for a better one. Accept my condolences.
There is a time for everything; a time to be born, and a time to bid the world goodbye. It is undeniable that this loss hurts, but you need to stay strong and move on. You are always in my thoughts and prayers, especially in this dark moment. Accept my condolences.
It is okay to cry and to mourn. It is okay to feel like life is not fair. But it is not okay to stop living. It is okay to want to break things and scream at the top of your voice, hoping the pain will go away. It actually never does. Harness the pain and let it remind you how much they would want you to live and laugh, and even love again. Please accept my condolences.
It is never an easy time for a family in the event of a loss of its member. I pray that your family gets the comfort it needs this trying time. May you find the strength needed to journey through this difficult moment.
It is so devastating to see dreams and ambitions cut short by death. This makes us question the essence of living. But what questions can you possibly ask that will be enough? I pray you find the strength to move on. Accept my heartfelt condolences.
The news of your loss saddens me. So sorry you have to go through this terrible occurrence, but death is a necessary end to life on earth that we all must go through. Accept my condolences.
A great tip to note when sending Sympathy Messages is "Do not overthink it!" A simple "Hi dear, I just want to check up on you. Hope you are doing okay?" can do the job. Just think of ways to offer comfort when sending a Sympathy Message, and you'll do just fine.